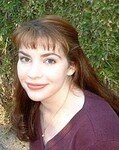 Stephenie Meyer est née le 24 décembre 1973 dans le Connecticut, en Nouvelle Angleterre, lors du bref passage de sa famille dans l'est des Etats-Unis. Mais depuis l'âge de 4 ans, elle vit dans l'Arizona. Elle grandit à Phoenix où elle est la deuxième fille de la famille qui comporte trois filles et trois garçons. Son prénom original vient de la combinaison de celui de son père, Stephen, et ie (me). Son prénom a été mal orthographié toute sa vie durant mais elle reconnaît qu'il se démarque et que donc il est plus facile à la trouver sur Google.
Elle a été au lycée à Scottsdale en Arizona, le genre d'établissement où une poignée de filles faisaient leur rentrée avec un nouveau nez et où il y avait beaucoup de Porsches parmi les élèves. Pour information, Stephenie a gardé son nez original et n'a eu une voiture que lorsqu'elle a atteint la vingtaine.
Elle a reçu une bourse pour aller à la BrighamYoung University à Provo dans l'Utah. Elle a fait des études d'anglais mais s'est plutôt dirigée vers la littérature que vers les ateliers d'écriture.
Stephenie a rencontré son futur mari, Pancho, Christian de son vrai prénom, à l'âge de 4 ans. Ils se voyaient une fois par semaine à l'église mais n'avaient pas eu de véritable conversation en tête à tête. Elle indique que cela valait peut-être mieux car 16 ans après leur première rencontre, il ne s'est écoulé que 9 mois entre leur « Bonjour » échangé et leur mariage ! Evidemment, ils ont pu sauter l'étape de la connaissance de l'autre puisqu'ils ont passé leur enfance ensemble. Ils ont aujourd'hui 3 garçons : Gabe, Seth et Elie.
Stephenie est membre de la Church of Jesus Christ of Latter-day Saints, plus communément appelée la communauté de Mormons.
Ses auteurs préférés sont Orson Scott Card, Jane Austen, William Shakespeare, Maeve Binchy, Charlotte Bronte, Daphne DuMaurier, L.M. Montgomery, Louisa May Alcott, Eva Ibbotson, William Goldman, Douglas Adams, Janet Evanovich. Pour la musique, elle privilégie Muse, Linkin Park, My Chemical Romance, Coldplay, The All American Rejects, Travis, The Strokes, Brand New, U2, Kasabian, Jimmy Eat World, et Weezer.